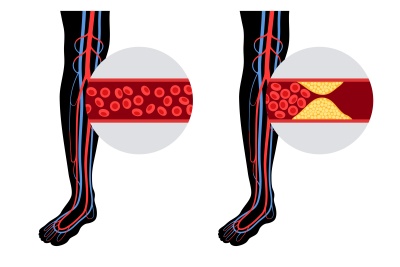 Peripheral artery disease (P.A.D.) is a disease in which plaque builds up in the arteries that carry blood to your head, organs, and limbs.
When plaque builds up in the body's arteries, the condition is called atherosclerosis. Over time, plaque can harden and narrow the arteries. This limits the flow of oxygen-rich blood to your organs and other parts of your body.
P.A.D. usually affects the arteries in the legs, but it also can affect the arteries that carry blood from your heart to your head, arms, kidneys, and stomach. This article focuses on P.A.D. that affects blood flow to the legs.
Peripheral Artery Disease Symptoms
Peripheral artery disease symptoms include painful cramping in your hip, thigh or calf muscles after activity, such as walking or climbing stairs (intermittent claudication) Leg numbness or weakness. Coldness in your lower leg or foot, especially when compared with the other side.
Peripheral Artery Disease Treatment
Treatments for peripheral artery disease include heart-healthy lifestyle changes, medicines, and surgery. Peripheral Artery Disease can often be avoided by living a healthy lifestyle, including physical activity, quitting smoking, and heart-healthy eating. In case of surgery procedures, P.A.D. can be eliminated with Bypass Grafting, Angioplasty and Stent Placement, or Atherectomy.
---
Our Location
Middle Georgia Vascular Surgery Center & Vein Solutions (MGVSC)
1025 N. Houston Rd
Warner Robins, GA 31093
Phone: (478) 238-5513
Get Directions