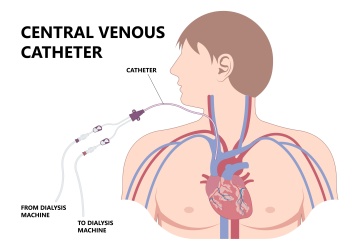 A catheter is a flexible tube inserted through a narrow opening into a body cavity for removing fluid.
A Hemodialysis Catheter Placement procedure involves the insertion of a flexible and sterile thin plastic tube, called a catheter, into a blood vessel to provide an effective method of drawing blood or delivering medications and nutrients into a patient's bloodstream over a period of weeks, months or even years.
In a vascular access procedure, the catheter is inserted through the skin and into a vein (generally a vein in the neck, arms or legs) and the tip of the catheter is positioned into a large central vein that directly drains near the heart.
---
Our Location
Middle Georgia Vascular Surgery Center & Vein Solutions (MGVSC)
1025 N. Houston Rd
Warner Robins, GA 31093
Phone: (478) 238-5513
Get Directions