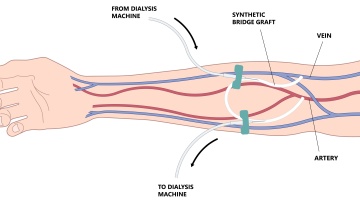 End-stage renal disease (kidney failure) represents a disease whereby the kidneys can no longer perform their function of filtering the blood to exchange/excrete electrolytes and metabolites. As a result, these products are no longer excreted into the urine but rather built-up in the blood to dangerous levels that cause illness.
The diagnosis of such a condition requires a thorough history and physical examination, as well as proper testing, by a primary care physician and a nephrologist (kidney doctor). The treatment for such a condition requires a way to filter the blood known as hemodialysis, which requires a way to remove the blood so that it can be filtered by a dialysis machine and then returned into the body.
The best way to accomplish this is by the creation of an arterial-venous fistula or AVF. An AVF is created by connecting a vein in the arm to an artery. This allows for the vein, which now sees higher pressure/flow from the artery, to become bigger, stronger, and have faster flow. This, in turn, allows for it to be 'accessed' by the dialysis needles on a regular basis without damaging the vein because it is now thicker and stronger. Also, the higher pressure/flow allows for dialysis to be performed in a reasonable amount of time (usually 4 hours). Once created, an AVF usually requires 6-8 weeks to become ready to use, or 'mature'. If dialysis is needed urgently, however, then a catheter can be placed into a vein at the base of the neck that is tunneled under the skin and exits the upper chest. An AVF can then be created and dialysis can be done through the catheter while the fistula is maturing.
---
Our Location
Middle Georgia Vascular Surgery Center & Vein Solutions (MGVSC)
1025 N. Houston Rd
Warner Robins, GA 31093
Phone: (478) 238-5513
Get Directions